Featured Product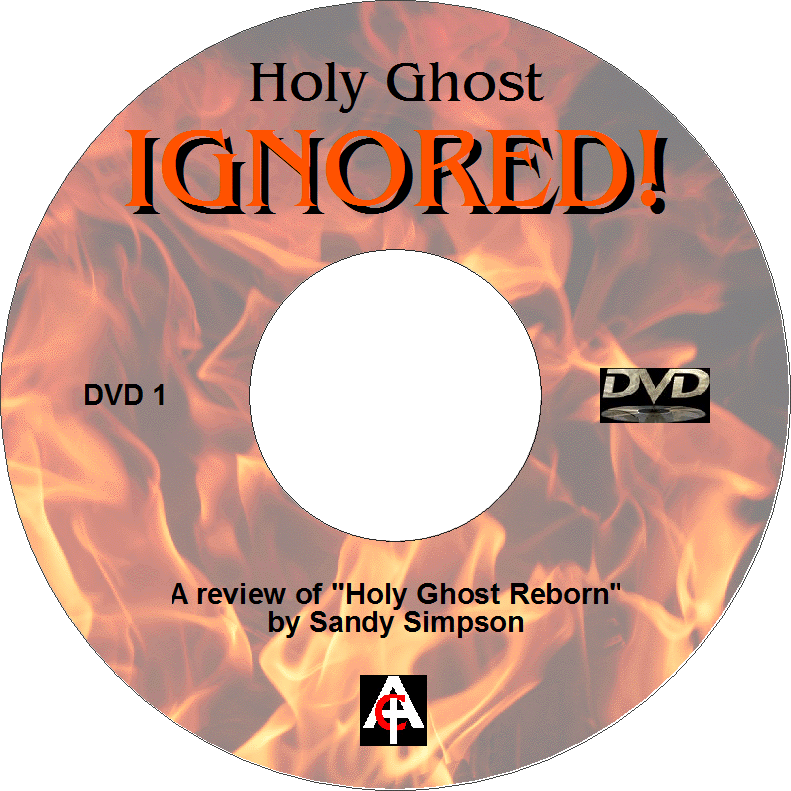 Holy Ghost IGNORED!
by Sandy Simpson
This 3-DVD set is a message based on
this movie review.
"Holy Ghost Reborn" is the second film in the "Holy Ghost" series released by Bethel Church in Redding, CA. Tim Wirth and I reviewed the first "Holy Ghost" film and that review is freely available on YouTube here:
I am sorry to say this but Bethel is clearly a cult of Christianity holding to most of the teachings of the Latter Rain and Word of Faith. They have demonstrated repeatedly a manipulative atmosphere targeting young people in particular while preaching rank heresy. This new film is a continuation of those false teachings and practices. I pray for the young people in that church that they will come to know Jesus Christ as their Savior and thus come to know the true Holy Spirit.
Go here
for ordering information.
Donate to the ACT Ministry!
or follow this link for other options.
DITC e-Newsletter

It is sad that formerly biblical churches and denominations not longer want to clean house and protect themselves from heresy.
Please check out my 3-DVD series "
Holy Ghost IGNORED!
". It is important to know what modern Christianity is morphing into.
We continue to need your help and support!
Please follow the guidelines on the
donation link
if you wish to help support this ministry. You can
order products by clicking on them
below! As always, you can see the DITC e-Newsletter archive
here
and sign up to receive this newsletter or unsubscribe there as well.
On April 14, 2016, Calvary Chapel Costa Mesa's senior pastor Brian Brodersen made the following astonishing remarks on his Facebook page,[1] "What a fantastic introduction to the new Alpha film series! Good one @nickygumbel https://t.co/BvmvHbbZbL." That link Brodersen provided leads to Alpha Course leader Vicar Nicky Gumbel of the UK. As researcher and berean Mark Jeffries stated recently on Facebook, Brian has partnered with HTB [Holy Trinity Brompton] in the last few years in organizing his "Creation Fest"[2] [UK] - But this, this is an outright endorsement!!"[3]




Click here to read this article!
Betrayed with a Kiss: Azusa Now's One World Religion
by Amy Spreeman, Berean Research, 4/11/16
A kiss is just a kiss? Not when it betrays the Lord Jesus Christ. That's a question that was resoundingly affirmed by Lou Engle in the sound of one sloppy wet kiss. The NAR-affiliated false teacher Lou Engle, founder of the "Azusa Now: The Call" exchanged foot kisses with a Roman Catholic leader live on stage in front of a cheering audience of 100,000+ packed into the LA Coliseum this past weekend. The video shows the two throwing themselves to the floor in prostrate humility, each proclaiming that Christians and Catholics must unite in the name of unity. The kiss started with Matteo Calisi, the Roman Catholic leader appointed by Pope Benedict, who founded United in Christ, an organization that strives for ecumenism between Christians and Catholics. Telling the audience that division between Christians and Catholics is a "diabolical sin," and that Jesus "doesn't care" that Christians and Catholics disagree on biblical doctrine, he did what many Christians find unthinkable. Heather Clark over at Christian News Net describes it this way: "Calisi then laid prostrate Engle's feet, clutching one foot with his hands. Engle placed both hands upon Calisi's back as he did so. When Calisi stood, Engle moments later fell to the ground prostrate at Calisi's feet and kissed one shoe, as others gathered around to lay hands on them. Calisi then spoke against what he called a "spirit of division" between Christians and Catholics." (Clark, "Lou Engle of The Call Kneels, Kisses Foot of Catholic Leader as Act of 'Reconciliation'," Christian News, 4/10/16). You may be wondering, "does Jesus indeed frown on us dividing over doctrine?" The answer can be found in Jesus' breathed-out Word: Galatians:1:8 But though we, or an angel from heaven, preach any other gospel unto you than that which we have preached unto you, let him be accursed. warns of accepting another Gospel than the one that the apostles witnessed and preached. "if any man is preaching to you a gospel contrary to what you received, he is to be accursed!" Hebrews:4:12 For the word of God is quick, and powerful, and sharper than any twoedged sword, piercing even to the dividing asunder of soul and spirit, and of the joints and marrow, and is a discerner of the thoughts and intents of the heart. tells us that our doctrinal beliefs in the Word of God do indeed divide, as the Word is "living, and powerful, and sharper than any two-edged sword, piercing even to the dividing asunder of soul and spirit, and of the joints and marrow, and is a discerner of the thoughts and intents of the heart."

Click here to read this article!
Holy underpants! Prophet Mboro explains blessing panties
by News 24 Live, 4/21/16
Mboro described the process of blessing the garments. He said "an invisible man" visits people in their sleep, sometimes rapes them, and then they contract sexual diseases or develop disorders. This is due to spiritual forces, claims Mboro, who speaks to "those underwears" as he anoints them. "The power of God will get in," he says.
As a Christian missionary and as a former Calvary Chapel pastor for many years, I have been observing a growing trend of too many people remaining silent on far too many major ecumenical compromises. A host of other issues are also of concern.




Click here to watch this video!
If you need apologetics tools,


then click on the ACT logo to go to our current products page.

As you know, if you are a frequent user of the DITC website, we offer thousands of FREE articles archived or linked from our site. You can also search for articles on our site and other excellent discernment sites, browse by topic and find the latest articles for the past two months. We also offer many apologetics DVDs, CDs, books and other materials for purchase using PayPal or by check/money order by mail.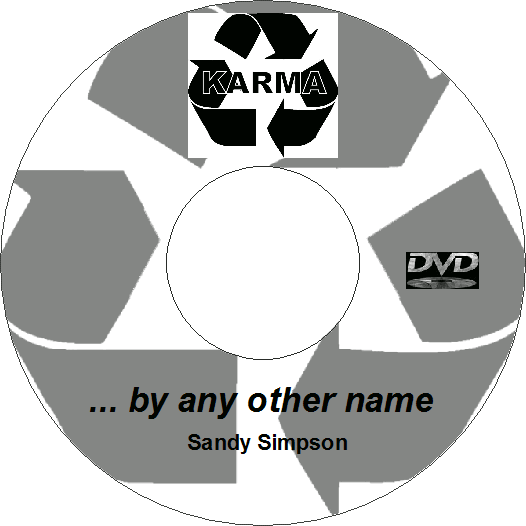 May the Lord bless you as you continue to be a Berean!

In His hands,

Sandy Simpson
Apologetics Coordination Team