Featured Product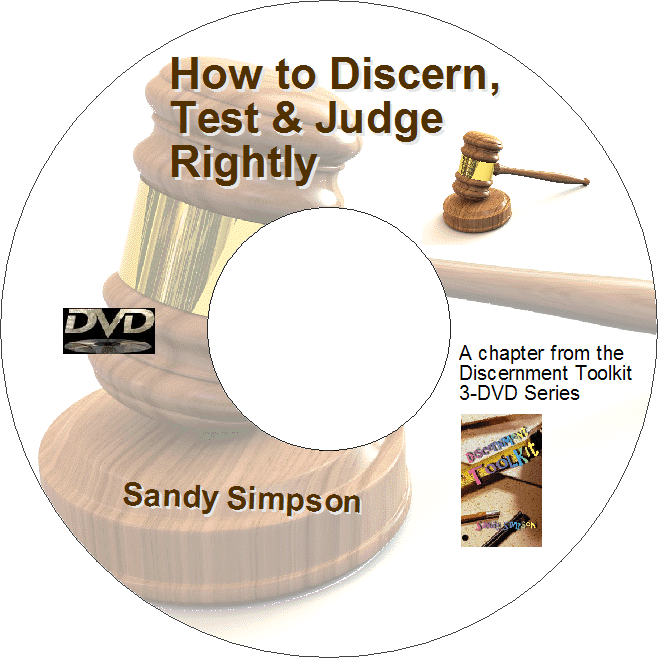 How To Discern, Test & Judge Rightly
by Sandy Simpson
This DVD is a message based on this article.
In running a web site with thousands of articles, 1-2 million hits per month from all over the world, and hundreds of e-mails per week, I have come to realize, with time, that there is a terrible problem in Christendom today. The problem stems from an existential subjective view of the world that has filtered into the church from secular society, but also from the teachings of heretical wolves who have taught an entire generation of churchgoers completely unbiblical methods of discernment or to get rid of any discernment altogether.
Go
here
for ordering information.
Featured Discernment Ministry
Lighthouse Trails
OUR MOTTOS
"Bringing light to areas of darkness" and "A light shining in the darkness"
WHAT IS OUR MOTIVE?
That is really very simple: The Gospel of Jesus Christ. Because we believe that this Gospel - that Jesus died on the Cross to pay the penalty for man's sins and that He arose on the 3rd day and has offered salvation freely to whosoever will come to Him - is the only means of eternal salvation for any person, our motive is to contend for that faith so that others may hear that Gospel and believe on it.
Donate to the ACT Ministry!
or follow this link for other options.
DITC e-Newsletter

Dear Friends,
There are many doors through which heresy can gain access to churches. I discuss some of the less obvious ways in my article "
The Attack Of The Enemy On Churches
" below.
Our new address is: Sandy Simpson, P.O. Box 1043, Wadesboro, NC 28170
---
Please continue your support for this ministry!
Please follow the guidelines on the
donation link
if you wish to help support this ministry. You can
order products by clicking on them
below! As always, you can see the DITC e-Newsletter archive
here
and sign up to receive this newsletter or unsubscribe there as well.
by Sandy Simpson, 3/10/15
So much heresy is entering the churches these days. As you would suspect, sometimes it is due to a pastor attending a conference or reading a book and becoming diapraxed with unbiblical ideas. He then starts to weave those ideas into his messages and begins to invite speakers to the church who expound on those ideas. Then when confronted by someone in the church who has reservations about the new stuff being taught, they are told to not talk about it and just go along with the program. If that person does not they are ostracized, slander behind their back, and often told to leave (which is what they should do in any case). But my observation is that it is not only the pastor who causes unbiblical changes to influence a church. Often the pastor is blissfully unaware of influences coming into his church. They often come in through (1) the worship team (2) women's groups (3) bookstore (4) children's programs (5) interdenominational prayer efforts and (6) relief and mission organizations. If unchecked this type of infiltration is much more subtle and can become deeply rooted.
Click here to read this article!
Popular Books That Introduce Children to the Occult and 5 Steps You Can Take to Protect Your Kids (Booklet)
by Berit Kjos, 3/9/15
When I arrived home and began to skim through these contemporary "treasures," I could hardly believe what I saw. Young children read this? Pornography, cruelty, sadism, violence, and occultism leaped out at me from the pages. In less than five minutes, I had skimmed through all I could take. In this booklet tract, I want to give you a brief overview of what young people are being handed today in the form of books and literature. While much of this reading material is being touted as having value and virtue, the underlying sediment is anything but that.
Click here to read this booklet!
by Danny J. Frigulti, 3/10/15


Author Danny Frigulti has spent more than 30 years reviewing "faith teachings." This book exposes more than 100 false teachings found in worldwide faith healing and prosperity gospel ministries. False teachings about sickness, healing, faith, positive confession, quantum faith, money, inner healing, Isaiah 53:4-5, 1 Peter 2:24, creative visualization and what the blood of Christ's atonement represents are refuted with Bible Scriptures. Also, some of these false teachings are shown to have an occult connection.
Click here to read this book!
May the Lord bless you as you continue to be a Berean!

In His hands,

Sandy Simpson
Apologetics Coordination Team