Featured Product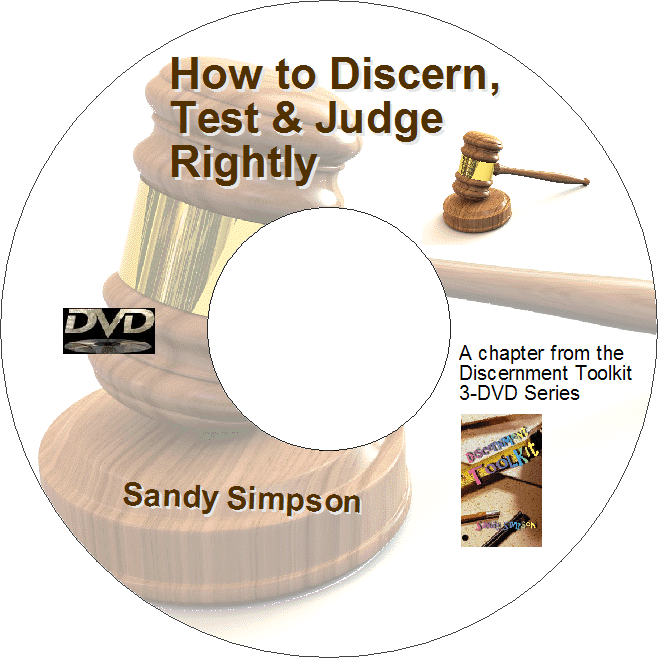 How To Discern, Test & Judge Rightly
by Sandy Simpson
This DVD is a message based on this article.
In running a web site with thousands of articles, 1-2 million hits per month from all over the world, and hundreds of e-mails per week, I have come to realize, with time, that there is a terrible problem in Christendom today. The problem stems from an existential subjective view of the world that has filtered into the church from secular society, but also from the teachings of heretical wolves who have taught an entire generation of churchgoers completely unbiblical methods of discernment or to get rid of any discernment altogether.
Go
here
for ordering information.
Donate to the ACT Ministry!
or follow this link for other options.
DITC e-Newsletter

Dear Friends,
This e-Newsletter features a new DVD that is one of the chapters out of the Discernment Toolkit 3-DVD Study Series called "How To Discern, Test and Judge Rightly". You can order this DVD
here
and if you like what you see you can either order the
book
or the
3-DVD study series with leader guide
.
Our new address is: Sandy Simpson, P.O. Box 1043, Wadesboro, NC 28170
---
Please continue your support for this ministry!
Please follow the guidelines on the
donation link
if you wish to help support this ministry. You can
order products by clicking on them
below! As always, you can see the DITC e-Newsletter archive
here
and sign up to receive this newsletter or unsubscribe there as well.
by GotQuestions, 3/3/15
For these and other reasons, Renovaré is considered by some to be a theologically dangerous movement. Like many parts of the contemplative spirituality movement, Renovaré preys upon the spiritually hungry and points them not to the cross of Christ or God's inerrant Word but to man's traditions and emotional human experience. The wise and discerning Christian will examine carefully all claims of the Renovaré movement and compare each with Scripture. That which contradicts the Word of God must be rejected.
Click here to read this article!
The Physics of Heaven
by Ellyn Davis, Judy Franklin & Bill Johnson

Reviewed by Herescope (Multi-part series)
By comparing notes on their experiences, Judy and Ellyn began to discuss writing a book together. The Physics of Heaven represents the puzzle that they, with contributions from other authors and speakers, have put together, a puzzle consisting of pieces "of what the Lord has been revealing." (TPOH, vii) Readers are informed that the authors "believe that God is revealing things in the sciences, particularly in quantum physics, that can be directly related to the spiritual realm" and that, "The revelatory connection between quantum physics and the spirit realm poses an uncomfortable challenge." (TPOH, vii) Unfortunately, some of the puzzle's pieces don't have the biblical basis they advocate.
Click here to read this book reivew!
Oprah Winfrey's New Age "Christianity" and the Emperor's New Clothes (Booklet)
by Lighthouse Trails, 3/5/15
Oprah has done her job well. For nearly thirty years, she has enthusiastically and consistently communicated her New Age beliefs through countless New Age authors. All those in the "Aquarian Conspiracy" must be very proud of her. Thanks to Oprah's high visibility and continued popularity, "the great heretical idea" that "God" and "Christ" are within everyone has been "widely communicated" and is fast becoming our "new consensus" and "what everyone knows." This ten-week class that she was teaching with Eckhart Tolle was the culmination of all that Oprah has sought to teach her viewers over the years about the New Age and how to see the world anew. But like the Emperor and his "new" suit of clothes, Oprah has been greatly deceived by her New Spirituality. Sadly, if Oprah and her colleagues continue down the path of the New Age/New Spirituality, they will experience an "awakening" some day, but it will not be the "Great Awakening" they anticipated. Instead, it will be a rude awakening come Judgment Day. On that day, they will suddenly realize that God is God and they are not, and they never were. They will realize that Jesus Christ is Lord and that He is the one and only Christ, and there is no universal "Christ within." They will see that they were deceived and that the Lord Jesus Christ really meant it when he said, "Take heed that no man deceive you. For many shall come in my name, saying, I am Christ; and shall deceive many" (Matthew 24:4-5).
Click here to read this booklet!
by Discerning The World, 3/5/15

Like Leonard Sweet who hails New Ager, David Spangler, Willis Harman, M, Scott Peck, Matthew Fox and other contemplatives as the "New Light Leaders" and among the most creative religious leaders in America today, (who) . . . . are . . . . carving out channels for new ideas to flow, (2) Sephan Joubert has his own little crowd of Emergent contemplatives whom he lusciously hails as "Today's new saints [who] are those who in solitude find peace and quiet with God and manifest it in genuine ways." Leonard Sweet 2015However hard they may try to persuade their followers that their association with well-known contemplatives and New Agers does not defile their own spotless anti-Emergent character, they need to explain why they are still tenaciously, happily and openly fraternizing with the leaders of the Mosaïek Church in Fairland, Johannesburg who are all full-blooded contemplative emergents. (Please see the billboard on the left announcing Leonard Sweet's visit to the Mosaïek Church on March 10th, 2015).
Click here to read this article!
May the Lord bless you as you continue to be a Berean!

In His hands,

Sandy Simpson
Apologetics Coordination Team