e-Newsletter
Volume Twenty Two, Issue Two
5/27/08
---
Volume 22, Issue 2
"DECEPTION IN THE CHURCH" e-Newsletter
5/27/08
Dear All,
The Apologetics Coordination Team (ACT) web site has finally been moved to the new server! Everything is working better than ever. It will give me more room to expand the audio and video files and we will have no more problems with playback. I also have better web site statistics now and found out today that the web site is getting between 13,000-15,000 people visiting the site EACH DAY! You can reach the ACT web site through the following URLs:
http://www.apologeticscoordinationteam.com
http://www.deceptioninthechurch.com
http://op.50megs.com/ditc/
Please continue to pray for me as I stand for the truth of God's Word. I got an email from someone today who apologized for calling me names and berating what we are doing.
For the longest time I have judged you and criticised you for bringing out the truth many fail to see. I used to watch TBN "religously" and bought into what these evangilists called "truths". When in reality it is setting one up to blame God for our faults. I recently listened to a cd about these false prophets of TBN. It was shocking, and for so long I thought these men (and women) were leading me the right direction. For so long I was calling you Pharisee when I myself was one. I have even written angry emails to you claiming it was under the authority of God. So I ask you, my brothers and sisters of DITC, for your forgiveness of my foolishness, my anger, and my judgemental ways. I love you, and may God bless you for your work
This is not a single incident. I am glad the Lord is using the information on our site to help people sort through various issues in the churches. The feature for this newsletter is another current issue facing Christians, yet it is a continuation of heretical teachings and false prophecies that have been going on for a long time. Also please consider supporting the ACT ministry through purchasing the materials we have for sale (all our articles are free!) or sending in a donation for the ministry. I thank the Lord for those of you I can count on to pray for us and support us financially when you are able.

In Christ,
Sandy Simpson
Apologetics Coordination Team
http://www.apologeticscoordinationteam.com/



---
The feature article(s) for this newletter is a series on the Todd Bentley "revival" in Florida. I want to thank Mike Oppenheimer for this series and his careful and thorough analysis of Bentley and his "fresh fire" stuff. The first article is called Todd Bentley "Meet the new thing- same as the old thing" - "Will We get fooled again?" by Mike Oppenheimer, Let Us Reason Ministries, 5/08. This is part one of the series on Todd Bentley's pursuit of the supernatural. The other parts of the series can be accessed from the above opening article.
---
BRAND NEW BOOK!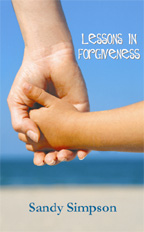 Through the years I have been presented with many opportunities to forgive. Sometimes the situation was so severe that it took me some time to forgive and start the process of healing for myself, and eventually for others. I learned that a Christian needs to forgive other people even if they have not repented of their sins. That can be really hard if we let it be hard. But if we give our burdens over to the Lord, He will carry them and that frees us up to treat other people with love, compassion, and be in the right frame of mind and heart to set them up for reconciliation with Jesus Christ. That does not mean we tolerate their sin. We simply forgive them for what they have done to us, whether perceived or real, and move on to looking for ways to redeem them. We can then present to them the "truth in love" even when we have to rebuke them.
The price is $7.95 per cd plus s/h. Go here for ordering information.

---
New Bible Study CD!


Bible Studies in Discernment contains the studies in the New Testament by Sandy & Juanita Simpson covering many issues of apologetics and discernment. Go here for more information or click on the "Add To Cart" below. The price is $10. per cd plus s/h.
.

---
Landmark New Book!

Does having eternity in your heart mean that you know God and are His child? Could Gentile cultures understand the Gospel from the stars? Did God create man's cultures? Has God always been in the process of redeeming cultures from the time of Babel by placing in them a true revelation of Himself? Is there the worship of YHWH in all cultures and religions through the names of "supreme beings"? Have all cultures always had a way to make things right between them and God? These questions and many more are answered in this book that addresses the teachings of the World Christian Gathering on Indigenous People movement.
Go here for ordering details.
---
Discernment DVD Study Series!

This video study series is taken from the Discernment Toolkit book but includes a lot of footage of false teachers and false prophets. It will help you and/or your group learn how to test, discern and judge teaching and prophecy that is out there today in a very practical way. It covers the core doctrines, how we can use them to test, and examples on the DVD that can be paused for discussion. This series also includes a teacher guide and links to resources on the web. This 3-DVD series is available now!
Go here for ordering details!

---
Every Pastor Needs This DVD Series!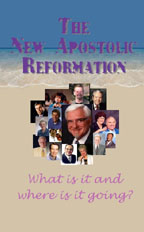 THE NEW APOSTOLIC REFORMATION
What is it and where is it going?
is a DVD /VHS expose of the NAR and it's leadership of C. Peter Wagner, Cindy Jacobs, Chuck Peirce, Dutch Sheets, Bill Hamon, Jack Deere and others. It features commentary by Bill Randles, Arnold Fruchtenbaum, Jacob Prasch, Mike Oppenheimer, Orrel Steinkamp, Gary Gilley, Dave Hunt, Sandy Simpson and others.
Go here for ordering details!
---








Companion DVD Series to
"Idolatry in Their Hearts"!
THE FIRST NATIONS MOVEMENT
Deceiving the Nations!
This DVD video series features Mike Oppenheimer and Sandy Simpson and their in depth research regarding the World Christian Gathering on Indigenous People which is backed by the New Apostolic Reformation. This is an issue that pastors and missionaries need to be informed of because it goes to the core of evangelism and preaching the Gospel.
Go here for ordering details!


FINISH THE RACE! was written to help believers to realize the absolute necessity of growing to maturity in Christ. Many churches are urging Christians to push aside discernment in favor of experience. It is our hope that this book will inspire many believers to fight the good fight, finish the race, and keep the faith (2 Tim. 4:7). Go here for ordering details.

Companion Book!
THE NEW APOSTOLIC REFORMATION is now available in book form. This is the DVD script plus commentary by Sandy Simpson. The commentary of the DVD series is not in the book, but there are many more quotes available than in the video series. Good reference material. Also available on CD-ROM.
Go here for ordering details.

Timely!
LETTERS TO THE CHURCH is a fitting manual for the Revelation Christian. All the precepts are in the seven letters in Revelation 1:9 - 3:22 to help us keep the faith, stay in sound doctrine, and reach out to those who are perishing. I hope and pray that this book will help the reader to be an "overcomer".
Go here for more details and how to order!

Demolish Arguments!
Want to be able to see your way through to clear biblical discernment? Want a set of tools that will allow you to disciple your loved ones so they will stand firm in the Faith? Want to sort out many of the false arguments and teachings that have invaded the churches? Then DISCERNMENTTOOLKITbook is for you!
Go here for more details and how to order!

Important Video Information
On Benny Hinn!
SPIRIT OF TRUTH OR SPIRIT OF ERROR? PART 1 - BENNY HINN
features Jacob Prasch, Mike Oppenheimer & Sandy Simpson and tons of video showing the teachings and prophecies of Benny Hinn. This is a proven tool to keep people away from heresy.
Go here for more details and how to order!

Living Water 2003
Discernment Conference
3-DVD Set & 2-VHS Set Now Available!

Featuring Bill Randles, Gary Gilley
& Ray Yungen

Go here for information!

Discernment 2001
Conference
6-DVD Set & 2-VHS Set Now Available!

Featuring Dave Hunt, Duane Magnani, Mike Oppenheimer, Jacob Prasch, Jewel Grewe & Bill Randles

Go here for information!
---
To subscribe to the DITC e-Newsletter, go here.
To unsubscribe to the DITC e-Newsletter, simply send an email to ditc@hotmail.com with the word "Unsubscribe" in the subject line.
---