Volume 11, Issue 2
"DECEPTION IN THE CHURCH" e-Newsletter
1/03/04
Dear DITC e-Newsletter Subscribers,
I trust you and yours had a blessed holiday season!
I'm sorry that the Deception In The Church main web site has been down a lot lately. Meanwhile please use the alternate mirror site here:
FEATURE ARTICLE
I recommend, in view of the worldwide acceptance of Rick Warren's programs in thousands of churches, that you read The Purpose Driven Life - An Evaluation by Gary Gilley, 11/03 This is a two-part evaluation of this popular book. Read Part 1, and Part 2. Please also refer to this letter that is on the Rick Warren/Saddleback site right now detailing his "vision" for radically changing mission strategy (the highlighting is by DITC). We will have a review of this program soon in article form, but suffice it to say that Warren is very out of touch with the history of missions as well as what is being done today by what he terms "para-church organizations". He makes "strawman" arguments in his attempt to unite all the churches under apostolic leadership to do mission work. His programs are entirely in line with those proposed by C. Peter Wagner and his International Coalition of (False) Apostles (ICA) as well as the UN. Be very wary of becoming involved with these people and their "Peace Plan". Remember that the "lawless one" comes first with his unifying "peace plan" between the global government and the global church.
---
LIVING WATER 2003 VIDEOS
NOW AVAILABLE!
LIVING WATER 2003 discernment conference was held in Honolulu, HI on 12/5 and 12/6/03. The tapes from that conference are now available, as a long playing 2 video VHS tape set. This conference featured Bill Randles, Gary Gilley and Ray Yungen presenting vital information for the churches. Check the program here. This tape set will be a valuable resource for pastors and Christian workers everywhere.

NOTE: Half of the Gary Gilley talk on Church Growth was not recorded on video. It will be available in audio at a later time here. Stay tuned!

LIVING WATER 2003 is available now as a complete set of two long playing videos for $20.00 plus $4.00 s/h. Non US Postal addresses are $20.00 plus $9.00 s/h.

Order using PayPal by clicking on the corresponding PayPal graphic or by mail by clicking on the "Order By Mail" graphic and printing out the order page on your printer!


| | |
| --- | --- |
| 2 VIDEO SET - U.S. | 2 VIDEO SET - NON U.S. |
| | |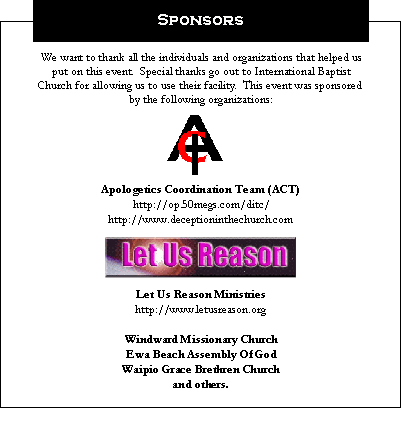 Apologetics Coordination Team
P.O. Box 1759
Wadesboro, HI
96782
Phone: 808-456-1031
Email: ssimpson@hawaii.rr.com
Excellent Resources!
Timely!

LETTERS TO THE CHURCH is a fitting manual for the Revelation Christian. All the precepts are in the seven letters in Revelation 1:9 - 3:22 to help us keep the faith, stay in sound doctrine, and reach out to those who are perishing. I hope and pray that this book will help the reader to be an "overcomer".

Go here for more details and how to order!

Demolish Arguments!

Want to be able to see your way through to clear biblical discernment? Want a set of tools that will allow you to disciple your loved ones so they will stand firm in the Faith? Want to sort out many of the false arguments and teachings that have invaded the churches? Then DISCERNMENT TOOLKIT is for you!

Go here for more details and how to order!

This Is THE Benny Hinn Video!

SPIRIT OF TRUTH OR SPIRIT OF ERROR?
PART 1 - BENNY HINN
features Jacob Prasch, Mike Oppenheimer & Sandy Simpson and tons of video showing the teachings and prophecies of Benny Hinn. This is a proven tool to keep people away from heresy.

Go here for more details and how to order!
In His hands,
Sandy Simpson
Apologetics Coordination Team (ACT)
---
Peace Plan
by Rick Warren
Dear Friends:
This weekend, I will begin teaching the most important series of messages we've ever taught in 23 years here at Saddleback church. We believe it is part of the beginning of a Spiritual Awakening, a Global Movement, a New Reformation. (DITC: Same terminology of the ICA and New Agers)
During the five weekends of November, we'lll teach five messages on the P.E.A.C.E. plan: a strategy to have every small group in our church, and then tens of thousands of small groups in other churches, become engaged in solving the five biggest problems in the world: Spiritual Lostness, Lack of Godly Leaders, Poverty, Disease, and Lack of Education.(DITC: The Bible never prophesies that poverty and disease will be solved, except in the millenium.) These giant problems are so big that neither the governmnent, nor all the NGOs (non-government organzations) can tackle them. There is only one group large enough to tackle these global issues-the Christian church in all its local expressions around the world.
Nothing else can compare to the distribution channel of the millions of churches around the world. (DITC: Missions and local churches are already doing what Warren now proposes, and have been for a century.) Even in villages where you cannot find a clinic, a store, a school, or a post office, you can often find a church. The PEACE Plan will address these five "giant" problems by Planting new churches... Equipping leaders... Assisting the poor...Caring for the sick... and Educating the next generation.
These problems, and the answers, are not new. But the way we intend to tackle them using the small groups of local churches in large numbers is revolutionary.
Each week in November we'll explain one of the 5 parts of the plan in detail. We've be listening, praying, and preparing for this launch for about a year, and we've sought the advice of respected national Christian leaders around the world. (DITC: Mostly Third Wave leadership) We have "tweaked" the plans often, and will continue to do so as we "learn by doing." Now we're ready to share the plan with our congregation, friends, and other interested congregations across America. The bottom line is that we intend to reinvent mission strategy in the 21st century. As I stated, this will be a new Reformation. The First Reformation returned us to the message of the original church. It was a reformation of doctrine - what the church BELIEVES. This Second Reformation will return us to the mission of the original church. It will be a reformation of purpose- what the church DOES in the world. (DITC: Looking at Warren's "Purpose Driven Church" book, I would say he has not experienced the first reformation yet, so how can he lead us into a second?)
In the first century, mission strategy was always congregationally based. The first missionaries were sent, supported, and accountable to local churches. The church at Antioch was the first to do this. There were no mission societies, mission boards, or parachurch organizations. Local churches accepted the responsibility for Jesus' Great Commission and his Great Commandment, and the growth of the church worldwide was explosive.
Today, most local churches are sidelined and uninvolved when it comes to missions. The message from most mission and parachurch organizations to the local church is essentially "Pray, pay, and get out of the way." (DITC: Strawman argument which is not true.) But in the 21st century, Kay and I intends to help thousands of other local churches to move back to the frontline in missions, in compassion, and in providing the social services that historically the church provided. I believe the proper role for all the great parachurch and relief organizations is to serve local churches in a supportive role, offering their expertise and knowledge, but allowing the local churches around the world to be central focus and the distribution centers. I deeply believe that any organization that marginalized or minimizes the local congregation's responsibility to "Go", or bypasses the local church's moral authority to fulfill the Great Commission, is out of sync with the strategy God intended, and modeled in the book of Acts.
The continuing sales of The Purpose Driven Life are quite amazing. We are almost at the tipping point where Purpose Driven Life becomes a national phenomena. It will hit 10 milion copies sold by the end of December and has been on the New York Times hardback bestsellers longer than any other book this year (40 weeks) A couple weeks ago I did 6 TV interviews including Fox News Live, ABC, NBC, and CBN, so this spiritual awakening is starting to get the attention of the media. I now believe that know why God is blessing this book in such an unusual way. It is more than just a message thatGod wants to get out to everyone(which is huge). I now also see that God is using this phenomena to expand the platform for us to mobilize thousands of local churches for global world missions through the PEACE plan. Right now about 5,000 more churches are doing the 40 Day of Purpose campaign, and now the program has been adopted by corporations (like Coke and Walmart) sports teams (like the Oakland Raiders and Green Bay Packers, NASCAR drivers, and the LPGA) schools, civic clubs, and even prisons. Last week, Paul Harvey told everyone to go buy a copy of PDL on his ABC radio broadcast. He said "This is one of the most insightful books I've ever read and I will read it again...and again...and again." In 2004 we expect over 15,000 more churches to participate. The influence of the book keeps amazing me everyday as I get requests for autographed copies. In today's stack: I signed books for 1) All the Supreme Court Justices 2) One for Fidel Castro (!) 3) One for the President of Peru (these last 2 were spanish editions), and I recently got a note saying that everyone on Air Force One was reading the book recently. (DITC: Bragging, name dropping)
But all this is not about us. God's intention is much bigger than the book. It's all about the global glory of God! We intend to leverage the attention that the Purpose Driven Life has garnered to bring about a whole new way of thinking and acting in the church about our responsibility in the world. This is a stewardship we must be faithful to fulfill-with humility (DITC: Bragging and name dropping are not humility), generosity, and integrity. (DITC: There is no integrity in using false arguments and misinterpreting Scripture.)
If you'd like to watch the PEACE series on the internet, we've created a special webpage for you to do so without being needing a Saddleback membership code.All you need to do is click on this url www.saddleback.com/peaceplan . It will launch a page that will give you three options. 1. You can print an outline of the message. 2. You can watch one of our 6 weekend services online (times are given, and 3. You can watch the Archived services of any of the five services you miss in the PEACE plan series.
God bless you friends.
For the Global Glory of God! (DITC: Who gets the glory in this letter? Where is Jesus Christ, the Gospel or the cross mentioned?)
Rick Warren
---